Frequently Asked Questions
Thank you for visiting our website and factory store. We want all our customers to be satisfied so please let us know if you have any concerns, before or after the sale.
Below are some of the questions we get most often. If you don't see the answer to your question, please contact us. We would be happy to answer any questions you may have.
If you are not sure which Butler would be best for your application or you have questions about installation, we can help with that too.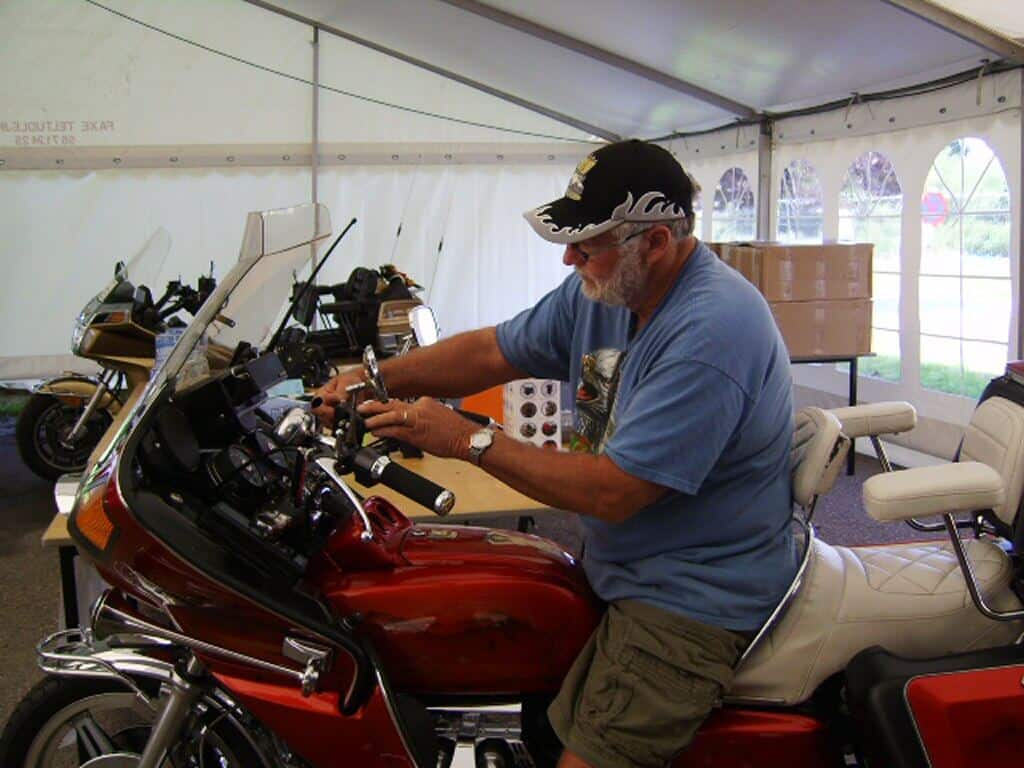 Can I use a Yeti or Ozark Trails stainless steel tumbler with my Butler set?
The Butler system can now be used with the popular 30 ounce stainless steel tumblers made by YETI and Ozark Trail. These tumblers are known for their substantial insulating qualities and durability. The 20 ounce 'Original Butler Lid' setup with straw and straw caps is designed to fit perfectly on these 30 ounce tumblers. These stainless steel tumblers fit perfectly in the standard Butler 20 ounce Compression Ring.
However, these stainless steel tumblers do not come with a handle which is necessary to allow the tumblers to be used with the Butler system while riding. There are many handles for these tumblers available through internet sites, but our experience is that most do not meet the shape or ruggedness standards required to maximize the Butler experience. This is why Glass Act manufactures this very strong and stable handle for you.
We have a whole page of information about using these tumblers. Click here to go there.
Will the Butler fit the Honda GL1800?
The Driver Butler set fits perfectly. The Markland and Kuryakyn Armrests for the 1800 GoldWing will not allow installation of the Passenger Butler without modifications. However, we have a new bracket that allows mounting a Passenger Mug without purchasing arm rests. Alternately, American Motorcycle Accessories offers a mount that works with their arm rests.
What is the difference between the Standard Butler, the Python Butler and the Side-by-Side Butler?
The Standard Butler Set, the Python Butler Set, and the Side-by-Side Butler Set all use the same mug and mug holding ring that is used throughout all Butler Sets. The difference between them is the way the ring is mounted on your vehicle. The Standard Butler Set is made to mount on handlebars using the factory two-bolt mounting location that holds either the clutch or brake systems to the handlebar. The Python Butler Set is also made to mount on handlebars at the two-bolt location. But, it also has the capability of being mounted on a round handlebar using a double-saddle configuration around the bar itself. This is advantageous where the typical two-bolt clutch or brake assembly is not available on that particular vehicle. The Side-by-Side Butler Set is quite different. It is made to mount to a 2 inch diameter round bar using a specially designed double-saddle type of clamp system. Although the Side-by-Side Butler can be mounted on any 2 inch bar, it is a very attractive addition to the Side-by-Side ATV type of vehicle. Both the Python Butler and the Side-by-Side Butler are machined using 6061 Aluminum finished with powder coating, whereas the Standard Butler is injection molded using a very strong polymer material.
I ride a Harley Davidson Electra Glide. Will the Butler fit on my bike?
Yes, the Butler will fit the Electra Glide. There are many Harley's now using the Butler. Due to the strength of the Butler, it is the most viable choice for the Harley. There is one exception to the "fit" question. A special bracket is required for the pre-1996 Harley Ultra Classic. Glass Act manufactures this special bracket in limited quantities for those with the earlier Ultra Classics. Contact us if you want to order this product.
I want the big mug holder for my co-rider. What do I order?
Order a Large 34 oz. Passenger Set. The set includes everything you need to install a 34 oz. Butler for your co-rider (Adjustable Mounting Bracket, Mounting Bolts and Hardware, one 34 oz. Compression Ring, one 34 oz. Insulated ThermoServ Beverage Mug, one Standard ThermoServ Lid, one Butler Extreme Lid, one Seal-Fit Straw and two Straw / Vent Caps). Note that Passenger Butler sets mount on the accessory armrest. If you have a Honda GL1500 or GL1800 and do not want to use aftermarket accessory arm rests, order the Mounting Bracket version made just for this application. There is a version for the Honda Goldwing and a version for the Harley Davidson Ultra Classic and Electra Glide.
I want a Driver Set but I want both sizes. How do I order that?
Order a Large 34 oz. Driver Set. Then from the Butler Parts and Accessories page, order a Small 20 oz. Conversion Kit. The option includes one 20 oz. Compression Ring, one 20 oz. Insulated ThermoServ Beverage Mug, one Standard ThermoServ Lid, one Butler Extreme Lid, one Seal-Fit Straw and two Straw / Vent Caps.
I'm on a trip and left my Butler Extreme Mug behind. What can I do?
You can pick up 20 oz. and 34 oz. insulated ThermoServ beverage mugs at most convenience and department stores. Good thing you ordered an optional six pack of Butler Extreme Lids to keep on hand!
Why did you send me two different lids?
The standard ThermoServ lids are supplied for use when you are not on the bike and want to sip rather than use the straw. You need the Butler Extreme Lid when you are riding to keep your drink securely contained, and to add the extra safety factor of using the straw. Please don't try riding with the standard lid.
How long does it take to get my order? Do you ship the same day I order?
We check our online orders daily and usually ship by the next business day. We ship best way using Federal Express, UPS and the US Postal Service. Shipping rates for orders to be shipped outside the U.S. will be quoted on request.
I want one. BUT, is there such a thing as an extra long, maybe even flexible, straw for a full face helmet?
The straw is sized such that a 5/16 inch ID flexible tube can be press fit on to the end of the straw making a flexible end of any length. A 3/8 inch OD flexible tube can be pressed into the straw hole in the Butler Lid, thus replacing the stiff straw entirely with the flexible tube. Either of these two methods work great for making a custom lid setup for use with a full-face helmet. These flexible tubes are readily available at most any hardware store, Home Depot or Lowes.
The Extreme Mug Holding System
Order your Butler through our online factory store today and we will get it shipped out to you right away. If you have any questions or prefer to order over the phone, give us a call.
Manufacturer of the
Butler Mug Holding System